PS4 PlayStation VR - Standalone $299.99 in Cart FS @ ebay/Newegg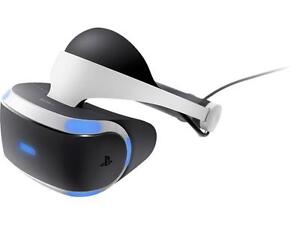 Rating: 1 Posted By: PatioFurniture
Views: 72 Replies: 0
http://www.ebay.com/itm/PS4-PlayStation-VR-Standalone-/302296776...
Detailed item info
Product Information
Enhance your virtual reality experience and enjoy gaming on another level with the Sony PlayStation VR Core VR headset. This model offers a comfortable and easy-to-use 5.7-inch OLED display that provides an immersive visual fidelity with a resolution of 1920x1080 pixels. For accurate motion tracking, the PlayStation VR Core is equipped with a three-axis gyroscope and three-axis accelerometer. This VR headset has both HMDI and USB interfaces in order to establish a connection with the video game console and is compatible with the Sony PlayStation 4 platform. With the Sony PlayStation VR Core, available in black, you can experience worlds beyond imagination and never run out of adventures.
Product Identifiers
BrandSony
ModelPlayStation VR
MPN3001560
UPC711719504498, 711719504511
Key Features
To FitVideo Game Console
FeaturesBuilt-In Headphones
Field of View100 Degrees
Display Size5.7"
Miscellaneous
Display Resolution1920x1080
Display TypeOLED
ColorBlack
PlatformSony PlayStation 4
Refresh Rate120Hz
SensorsAccelerometer, Gyroscope, Three-axis Accelerometer, Three-axis Gyroscope
Original post