Banzai Aqua Drench 3-in-1 Splash Park Waterslide $30 in Store Walmart or $37.74 online P/U F/S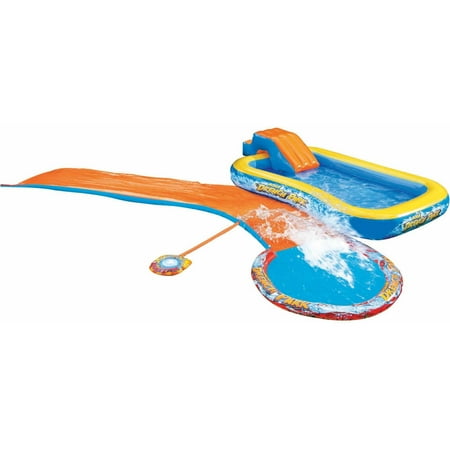 Rating: 0 Posted By: boontang
Views: 139 Replies: 0
$30 in store many locations via brickseek, SKU55139724
Otherwise $37.76 online with free shipping or store pickup.
ama-zon is $50+
Aqua Drench 3-in-1 Splash Park:
Get ready for some all-in-one backyard fun! With a curved water slide, sprinkling pod and an inflatable slide-in pool, the Aqua Drench Three-in-One Splash Park is a complete water park in your own backyard. Launch yourself down the 15-foot curved water slide and bank off the edge of the inflatable pool before your giant splash landing. Then slide down the inflatable slide for a quick dip into the pool before playing under the refreshing showers of the built-in sprinkling pod.
Age range: 3 to 12 years
180"L x 90"W x 14"H backyard water park
Features a curved water slide, sprinkling pod and slide-in pool for 3-in-1 fun
Refreshing continuous sprinkling action
Easily attaches to any garden hose
Repair patch includedDurable PVC construction
Original post