Kedsum Sonic Face Cleansing Brush (Mia 2 clone) $15.99FS from leadme-eshop via eBay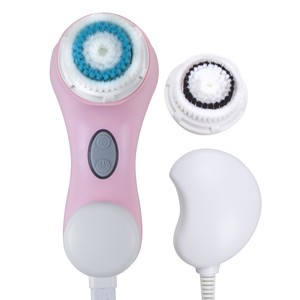 Rating: 0 Posted By: exbat
Views: 174 Replies: 0
Product Description
Waterproof Rechargeable Sonic Face Cleansing Brush
It's time to think beyond the washcloth and elevate cleansing to a sonic level. Traditional methods of cleansing doesn't get your skin as clean as you'd think. KEDSUM sonic method of cleansing uses vibrating pulsating technology, and have 2 Speeding Setting to meet almost every one's need. The resulting brush action removes dirt, makeup, oil, and skin impurities than cleansing with your hands alone and without causing excessive action on the skin.
Features:
Two speeding setting offer for different people need.
IP64 Waterproof grade, It is ideal for usage in the bath or shower .
Auto Timer :The face brush will Auto off after 1 min to protect skin .
Inductive Charging way ,full charge time about 15 hours.
Color: Pink
Package Include :
1*KEDSUM facial brush handle
2* Attachable Brush
1* Inductive Charger
1*English Manual
LINK
.
Backstory: My GF loved her first gen
Clarisonic
Mia 1 she's had for about four years and was devastated when it stopped working several weeks ago, especially since I had just gifted her a variety of new [non-OEM] brush heads. New Mias sell for roughly $100 - $150, depending on model, and that was out of her budget. I researched quite a bit, hoping to find a comparable
sonic
model for less. There were some decently-reviewed models that started around $50, that were more than just a spinning brush, but they used proprietary brush heads that were either expensive, impossible to find, or both. I did find some reviews for the Kedsum sonic brush that were very positive, and they looked identical to the Mia 2, including using the Mia brush heads.
I found two
eBay
sellers selling "generic" Sonic Face Cleansing Brushes and looking at the listings they were the Kedsum brushes. The sellers are sister Chinese companies, but ship from the U.S. (at least my order did). I placed my order and received it less than a week later. GF was in awe and thanked me repeatedly.
She has been using it daily and loves it.
$15.99 is about a tenth the cost of the genuine
Clarisonic
Mia 2, and less than the cost of a genuine replacement brush head. It is indistinguishable from the genuine
Clarisonic
model, functions the same, and even if it doesn't last as long I think it's an incredible value. Leadme-eshop sells the pink one only for $15.99, or you have a choice of pink or white from the other seller,
hotsale-eshop for $25.99
.
Note that these items are only returnable if defective and then only for an exchange.
Original post