Staples copy paper 4-ream case possible $1 MM Sun/Mon only YMMV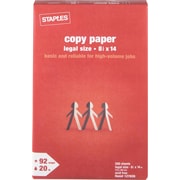 Rating: 0 Posted By: drjofis
Views: 50 Replies: 0
Staples
4-ream copy paper (This is not in the weekly ad, but rebates and coupons are up today)
SUNDAY & MONDAY ONLY using last week's Q which takes off $5.99 per case (limit ONE Q per transaction)
Pay $19.99-5.99 = $14, get $15 rebate (offer 17-18055) = $1.00 mm per case, limit 3 cases in 3 orders. YMMV.
Rest of week use this week's coupon, which takes off $2.99 to get $2 4-ream case.
Does anyone have PDF of last week's Q? Please post, thanks.
Credit to MISTERCHEAP: Some of the text of this post is copied from MC's post of previous week.
Original post